The complex nature of the commercial insurance business results in time-consuming, inefficient processes, prone to human errors. The big challenge is that it restricts the ability to meet demands of millennials. Not anymore! P&C businesses can now embrace novel technology solutions including AI/ML to transform their insurance operations process to become agile, highly responsive and highly efficient.
Source: Business Wire
Insurance companies dealing with property and casualty (P&C) policies understand the reliance on documents and unstructured data, whether it is for underwriting, checking and servicing policies, processing claims, or claims adjudication. At the same time, companies are also looking for digital transformation efforts. This means that they need to find a way to automate a highly manual activity such as document processing in P&C insurance.
Challenge of unstructured data
High volumes of unstructured data could pose quite a challenge for P&C insurers and brokers, as it becomes difficult for them to deal with insurance workflow automation approaches that work on keywords, rule-based methods and templates. The need of the hour is an intelligent, automated document processing system that makes smart use of Artificial Intelligence (AI) and Machine Learning (ML) to read unstructured documents, much like a human does.
While Robotic Process Automation (RPA) has been widely adopted in the industry, it has severe limitations in the use cases it can solve for. RPA can essentially automate the more simple, mundane tasks. However, automating the more complex processes, such as insurance policy checking, needs a more intelligent, cognitive approach.
Limitations of early automation attempts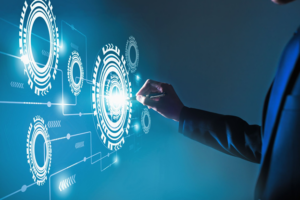 P&C insurers have been trying to automate various processes for years, with limited success. This is because most of their attempts involved using rule or template-based approaches which don't work well with the unstructured data that dominates P&C insurance processes.
Let's take the case of the P&C policy checking process. For a property insurance policy, policy checking involves the collection of various important documents that describe the property in question.
Traditional automation including RPA has proven to be futile, given the high volume of unstructured content involved in the underwriting process.
OCR and RPA
Optical character recognition (OCR) is another approach that has often been touted as a P&C insurance process automation solution. OCR is a data extraction technology that can be used to convert documents such as PDFs into a machine-readable format. That is certainly useful, but it doesn't address the issue of extracting contextually relevant data.
Using RPA in insurance has also suffered from limitations when it comes to unstructured content. The P&C underwriting process requires a human eye to read documents and decide upon which data has to be extracted. All the other P&C insurance processes that involve unstructured content will go through the same fate when it comes to OCR and RPA.
The Exdion solution
Exdion has a comprehensive data extraction platform for the P&C insurance industry, which is transforming the way insurance brokers handle unstructured data.  Exdion's unique extraction platform uses AI and ML to extract data from almost any format and automate most of the insurance buying and policy review processes. In essence, Exdion uses intelligent automation across existing processes to tackle tricky and time-consuming tasks. Get in touch with us to learn more about Exdion's intelligent automation solutions.
Listen to Exdion present their solution at the Aon Tech Perspectives webinar here.