US insurance market is radically moving towards 'digital-first' business models, unlocking new value to customers and shareholders. Insurance agencies are attempting to rewire their operations to address shifting customer expectations and growing competition. Many Insurers are shifting to usage-based coverage and personalised premiums. Technologies such as Machine Learning (ML), Internet of Things (IoT), and advanced analytics are helping Insurers to redesign practices rooted in traditional manual methods to Intelligent workflows. As a highly regulated industry, Insurance firms process thousands of claims. AI and other tools are increasingly being used to improve claim management and customer experience.
However, many digital transformation implementations have failed to meet the expectations. Reasons are plenty. Some agencies have driven new digital services separately from the rest of the company instead of integrating digital solutions. A few had successful pilots, but faced challenges when scaling up digital interventions. And others hit roadblocks during transition due to limited internal capabilities on AI and machine learning technologies. These missteps can spell doom for digital transformation, but Insurance agencies can taste success with better planning and phased approach.
Insurance agencies must realize digital transformation entails adopting smart technologies and building capabilities over time, not rushing to mesh inconsistent process. Data has always been at the heart of insurance agencies. What is happening now is the amount of data generated daily and the speed at which machines can process as well as uncover insights. First stage of digital transformation is realizing capabilities of handling structured data.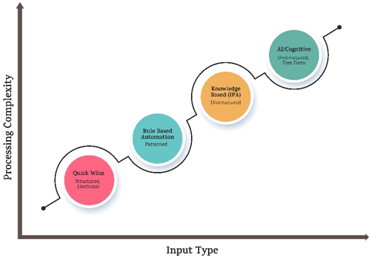 Next level of data capability emerges with rule-based algorithms to discover data patterns. An increased adoption of Natural Language Processing (NLP) engine and VPAs to help in selecting carriers based on pre-determined criteria will benefit the quote generation process. Carrier selection will be performed by VPA or the recommendation engine based on the target industry exposure, specific regions or Line of Business (LOB). AI tools will be used to summarize and compare quotes, perform coverage gap analysis, recommend policy upgrades and present the proposal in a standard format to clients.
Over time, Insurance agencies can deploy frame-based and cognitive-science approaches to handle unstructured and free form data across the enterprise. Smart agencies pace their digital projects to gain experience from innovation and sustain employee motivation.
Target customer and policy management experience
Insurance agencies that realize sustainable advantages from digital transformation are the ones that look at digital solutions across front-end, middle and back-end operations. Smarter agencies realize how technology development of cloud, mobile, analytics, AI and social media are integrated to realize positive experiences as a result of efficient processes. Cloud technologies provide scalability and flexibility to handle policy management in times like Covid19 pandemic. Cloud implementations boost productivity as employees can access, store, analyse and implement decisions from wherever they are. Self-service portals, Virtual agents and chatbots, and expert systems to recommend right policy can deeply enhance customer experience on the front-end.
However, unless mid-office and back-office operations are automated to support self-managed policy experience and instantaneous client servicing, the outcome of digital transformation may be ineffective. Today customers expect an omni-channel, hassle-free, self-managed renewal process. For many brokers, the First Time Right (FTR) rates, even for low-premiums, hover around 60%. The large-scale transaction volumes witness a high rework and additional administrative costs too.
Create seamless workflows
According to JD Power & Associates, time-to-settle is the performance metric that most customers care about. The top ranked insurer clocked in at 11 days in 2018. Smart agencies look at solutions that can help them completely automate policy checking and renewal process. This would not only remove human burden and boredom, but also drive higher productivity and quicker TAT. Smart agencies are also using automated policy checking engines to serve as another channel to handle low-value and low-risk policies. This would also enable brokers and underwriters spend more time on more profitable business.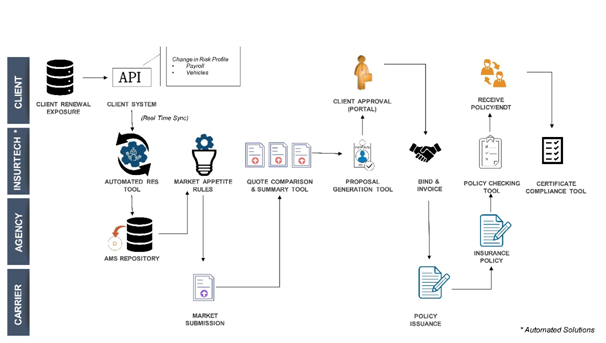 As a first step, agencies will adopt auto download of loss runs using APIs at predetermined intervals thus saving time spent following up multiple carriers. Agencies will automate Pre-Renewal Coverage Review by Client using smart AI/ML solutions. This will help agencies save administrative efforts in collating information from multiple spreadsheets. AI/ML solutions for Pre-Renewal review will automate policy renewal process track changes made by CSRs and provide accurate renewal exposure information to the clients. Agencies will use Cloud and other tools to seamlessly integrate and update information as per market specific forms. Quote generation process will benefit from increased adoption of Natural Language processing (NLP) based recommendation engines or self-learning BOTS or VPA that will help in selection of Carrier based on pre-ordained set of criteria. VPA or the recommendation engine on the line of Alexa or Siri can select a Carrier based on exposure in target industry, LOB or even specific region. Agencies can use AI tools to summarize and compare quotes.
AI tools can also be used to perform coverage gap analysis and recommend policy upgrades and present in a standard proposal format to clients. Agencies, in future, can use Portals for quote selection and request for Binder. Agencies can enable RES update collaboratively by Client and CSR and use e-signature to complete transactions. Data can be sent automatically to carriers for Binding based on the Proposal Status. Smart agencies will use Big Data and analytics to provide on demand endorsement to facilitate policy servicing. Contract compliance review the final step in the policy life cycle can be automated to assess E & O exposures. Agencies of future will also use predictive analytics to forecast catastrophic events and offer appropriate coverage (cross sell) before carriers stop providing coverage during the onset of these events. They could use predictive analytics to send out notifications to clients proactively.
In future, 85% of all customer service interactions will be handled without a human interference. Agency digitization will create revenue opportunities, increase the service development speed, enhance customer engagement, rapidly fulfill customer demands and enable penetration into new markets.And it goes without saying that tomorrow's market leaders should be operationally efficient, purpose-led, technology-enabled, data-driven, and people-powered.